Our wonderful fabulous gorgeous January vacation
As promised, here's a bit about our recent trip to Acapulco. You can check out all the pretty pictures of our wondrous adventure here.
Sunday, January 2, the day we were to leave for Mexico, it was raining and we lost power twice after dark. Luckily, I had finished packing that afternoon, so it didn't bother us much. The thought of getting far away from the rain made it almost fun. My mom drove us to the airport and we took off at around 12:45am Monday morning. We flew Continental; the movie was Without a Paddle. It wasn't good, but I can't sleep on planes so I was content to watch it. We landed at George Bush Intercontinental Airport in Houston, Texas just after 6am (CST). We had a 3 hour layover, but made our way over to our eventual departure gate to check out the food situation. We took the tram to terminal C to terminal B (I always love airport trams - a touch of Disneyland in every city), but terminal B didn't have nearly as many options as C, so we took the tram back. It was still only about 6:30, so not everything was open, so we had what was available and wasted some time taking dumb pictures (this was my very first phoon). We were kind of disconcerted by the smallness of the plane that was to take us to Acapulco and it was kinda scary since there was a lot of turbulence going over the Sierra Madre. Aaron and I played some highly competitive one-on-one Uno to distract ourselves and I got some awesome pics of the coast and the Sierra Madres.
As we flew into the Acapulco Airport at around 1pm, I saw huge plantations of palm trees in the surrounding area. It looked strange since all the other vegetation in the area was low-lying brush, but still pretty. We had to take a little tram/bus to the terminal, which wasn't a long trip, but I was glad since the heat (probably about 85 degrees) and humidity while not overwhelming, were a big change from San Francisco. We had to fill out our customs and immigration forms inside the airport because the flight attendant had given us the wrong forms on the plane. My bag didn't make it onto the plane at Houston, so I gave the airline reps my name and hotel to be dropped off when the next plane from Houston arrived. Taxi drivers swarmed around us as we came out of customs, but I had pre-arranged our ride to the airport with Expedia, so we just hopped into the Expedia rep's van, who told me to contact a "Pablo" at the hotel to arrange our return ride. We drove about 5 miles east of the airport. Along the way, we passed some of the huge golf resorts along the open ocean, like the Fairmont and the Mayan Palace, a Costco, the construction site of a new Wal-Mart - I noticed the earth was red and that strip malls are no stranger to Mexico. Then, we went down a long, windy road to the Hotel Camino Real Acapulco Diamante. The hotel is located on north-east end of the Bahia de Puerto Marques, just over a hill to the south-west of the Bahia de Acapulco, which is where most of the hotels, restaurants and attractions are located. Camino Real is a line of hotels throughout Mexico and the area we were in is known as the Diamante (Diamond) district of Acapulco because it's filled with beautiful, large, overpriced vacation homes, all of which seemed to be empty at the moment.
Check in was easy, as was cashing my traveler's cheques for pesos. $100 USD was $1,100 pesos. We were shown to our room, which was on the top floor of the main part of the hotel, so it had a great view of the bay. It had a nice bathroom, a safe in the closet, air conditioning, the hardest bed in existence, cable TV, and a balcony with deck chairs to lie out on. My bag wouldn't arrive until 5:00, so we went down to the pool bar and had some tacos (they only come with meat in Mexico) and drinks. I got a margarita on the rocks, Aaron got a "Coco Loco", which is a hollowed-out coconut filled with tequila, rum, vodka and coconut liquor... maybe some other stuff too, but I don't remember. After my bag arrived, we went for our first dip in the pool, which felt great after being in jeans all day. At dusk, it was still about 75 degrees and the water felt great. That night, we heard the baby in the next room cry for extended period of time a few times during the night. It seemed like the parents just weren't responding to it, as if ignoring a baby will teach it to not cry in the night, and they had to have heard it because it woke us up each time. The same thing happened the next two nights and Friday night; after that we got new neighbors who were OK until Sunday morning when one of them decided to play a little symphony using his/her room service utensils, cups and plates. We never officially complained about the baby, but Aaron gave the wall a good pounding when the clanking woke us up at 8:30am.
The next day, we took it easy. I established my routine of getting up at 10ish, when the sun hit our balcony, and sunning for an hour in my too-small-for-public bathing suit, and then Aaron and I went to breakfast at the Cabo Diamante on the 4th floor. We booked a "Club Room" through Expedia, which included buffet breakfast from 8am-12pm. It turned out to be a great deal since it covered us for breakfast and lunch and we could eat as much as we wanted. There were omelets, all kinds of breads, rolls, pasteries, fruit, yogurt, Mexican style breakfast dishes, bacon, sausages, pancakes, french toast, cereal, 6 kinds of fresh fruit juice and really really strong coffee. We layed around the pool and on the private beach. We swam in the ocean some and explored all the out-of-the-way seating areas that we could find. We met with the travel rep, set the time for our ride to the airport and arranged for a driver to take us to the far end of the Acapulco Bay the next day to do some souvenir shopping. Usually the ride would cost about $200 pesos each way, but we paid that much for both ways. We had dinner at the Cabo Diamante; Aaron got the filet mignon, I got chicken grilled with roast chilies. Pretty darn good.
Wednesday was the only day we set the alarm, which was a horrifyingly loud buzzer. We had our breakfast early (kiwi-lime juice is amazingly good, BTW) and were ready for the driver to get us by 10am. The ride through town was cool, since we got to see the Acapulco Bay from above and get a sense of what the city was like and what it had to offer. The hotels, all in a row along the beach, were incredibly tall compared to the surrounding buildings, which consisted mostly of themed restaurants and clubs. We got our trinkets for family members that would like souvenirs and a liter of Cazadores tequila to drink in our room to minimize margarita costs, since we weren't able to take advantage of cheap drink specials downtown. As far as I can tell, the only disadvantage of staying on the peaceful, relatively undeveloped Puerto Marques Bay is that you have to take a cab ride ($100-120 pesos) to where there's the greatest variety of restaurants. However, all the super nice restaurants with great views are up on the pass between the bays and the main road around Acapulco Bay is so long, I bet even downtown visitors have to take cabs sometimes. It was so hot in the market that we were glad to get back to the hotel and take a dip in the pool. There are three pools, but we stuck mainly to the lower pool because it seemed to have fewer kids. There weren't a lot of people there, but there still seemed to be a lot of kids around. More came during the weekend when the Mexico City crowd came down to spend the weekend.
After that, we didn't leave the hotel again until Saturday night. I woke up at 10ish, sunned on the deck until 11 (yay, iPod!), we went to breakfast, we sat outside until 5ish, watched some TV, ate dinner, drank in the room and watched more TV or played cards. I couldn't spend more than 20 minutes at a time under the sun because it was so hot, so I'd sit under the awning with Aaron and read or we'd take a swim to cool off before another round of saving my skin from sun starvation caused by living in San Francisco. I'd been reading Jules Verne's Vingt mille lieues sous les mers (Twenty Thousand Leagues Under the Sea). It's an interesting book, but Verne seems to be more interested in the minutiae of the workings of the Nautilus than telling an interesting story, but I only got half way through it during the trip so I'm not sure if it gets better.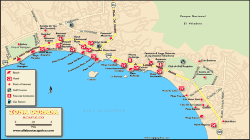 Cabo Diamante's dinners and the room service menu were good, but we wanted some real Acapulco Mexican food, so we headed downtown Saturday night. We were going to go to a Brazilian Mexican restaurant located near the Wal-Mart and the Hyatt, but our cab driver, Pablo, told us El Fogon was the best place to get authentic Acapulco cuisine, but it wasn't fancy. Sounds like our kind of place. It was fantastic. I got a "Mexican style beef steak", which was thin grilled beef swimming in a delicious-yet-spicy stew of tomatoes and chilies. Excellent. Also, the salsa choices were delicious and hot, especially the red salsa. I really wanted to bring some home, but they didn't have any for sale. Bummer. After dinner, we took a walk down the main street taking funny pictures and found a bar that looked more like a juice stand that had more kinds of alcohol than you can imagine and gigantic (at least 4 liters) bottles of rum, vodka and tequila. I had two mango margaritas, which were super yummy since it was just pureed mango and tequila. Aaron had a Poseidon, which had gin, vodka, tequila, rum, sprite and Curacao blue. Sounds like fun to me.
The next day, after breakfast, I took a day off from the sun and laid under an awning all day, drank and read. I swam out to the floating dock just off the beach every hour or so. We went to El Fogon again that night, but came straight back.
Monday was kinda sad because it was our last day and I was dreading returning to SF's rain and the harsh reality of going back to school and my real life. I did some good tanning and hung out with Aaron under the awning when I got too hot.
So, it was an awesome vacation. We didn't do much, but had a great time doing it. The main point was to relax and disconnect from our daily lives for a little while. The Camino Real on Puerto Marques Bay was the perfect get away and almost reasonably priced since we arrived right as the off-season started. I'd highly recommend Acapulco to anyone looking for a great Winter or Spring break destination. It's far enough south and dry enough to be a pretty sure thing when it's cold and rainy elsewhere, but might be a little too hot during the summer (although not nearly as hot as Las Vegas). I hear there's a "red tide" once a year when icky algae comes to that area, but I'm not sure when that is.
Posted by Kristina at January 12, 2005 03:45 AM